ANLIDA Offers Numerous Flattened Expanded Metal Products
ANLIDA can serve as your one-stop headquarters for any type of flattened expanded metal product. Our expansive inventory includes flattened stainless expanded metal sheets, as well as carbon steel and aluminum offerings. You will find a wide selection of sheet, design, opening and strand sizes and various thicknesses. We only offer flattened expanded metal products of the highest quality, ensuring they meet every customer's expectations in terms of performance and durability.
Let Us Know About Your Customization Requirements
If you're looking for a specific size or type of flattened expanded metal that isn't listed in our stock inventory, please let us know. We have our own in-house fabrication department where we can customize any of our stock metals to meet the most challenging or unique applications. Our fully equipped fabrication shop and unparalleled expertise can provide the right solution for your company. We custom make everything from flattened expanded infill panels to safety machine guards to our clients exact specifications.
Flattened expanded metal is metal that has been cold flattened, leaving a smooth, flat surface with diamond shaped openings. During this process, the length of the sheet is elongated, usually by about five percent. After the expanded metal has been flattened, the expanded sheet is then sent through a leveler to maintain its flatness, and compared with the flattened steel mesh, the mesh becomes thinner and softer, the stem width becomes larger, and the mesh increases. Generally, flattened expanded steel mesh is often used when there are regulations on the damage and surface of the expanded steel mesh.
As a leading expanded metal supplier, ANLIDA provides durable, economical, and versatile expanded metal. This versatile product is well suited for machine guarding, security or equipment enclosures, and other applications. This product is available in many material options, such as carbon steel, galvanized steel, aluminum, and stainless steel.
Flattened steel mesh sheet characteristics
The steel mesh sheet that is rolled flat after punching and drawing has a flat and smooth surface, and the roughness of the steel mesh sheet will generally be reduced after flattening.
Economical
Durable
Extremely versatile
Easy installation
Low resistance to wind loads
Easily cut to fit
Many material options, such as carbon steel, stainless expanded metal, galvanized and aluminum expanded metal
The main purpose of flattened steel mesh
Generally used in roads, railway lines, agricultural vehicle engineering construction, water conservancy engineering and other engineering constructions; various mechanical equipment, household appliances, windows, safety protection and aquatic product breeding, etc.

Since flattened expanded metal is both economical and durable, this type of metal is ideal for a variety of metal applications, such as machine guarding. Some of these applications include:
Expanded metal guards
Expanded metal fencing
Expanded metal panels
Expanded metal grating
Expanded metal grilles
Expanded metal screens
Expanded metal shelves
Expanded metal ramps
Expanded metal greenhouses
Expanded metal walkways
Expanded metal infill panels
ANLIDA stocks flattened expanded metal in carbon steel, stainless expanded metal, galvanized steel, and aluminum expanded metal. Flattened expanded metal is also available in other metal alloys in a wide variety of opening sizes. If a finishing edge is required, metal U-Edging is available in different materials to match the expanded metal material.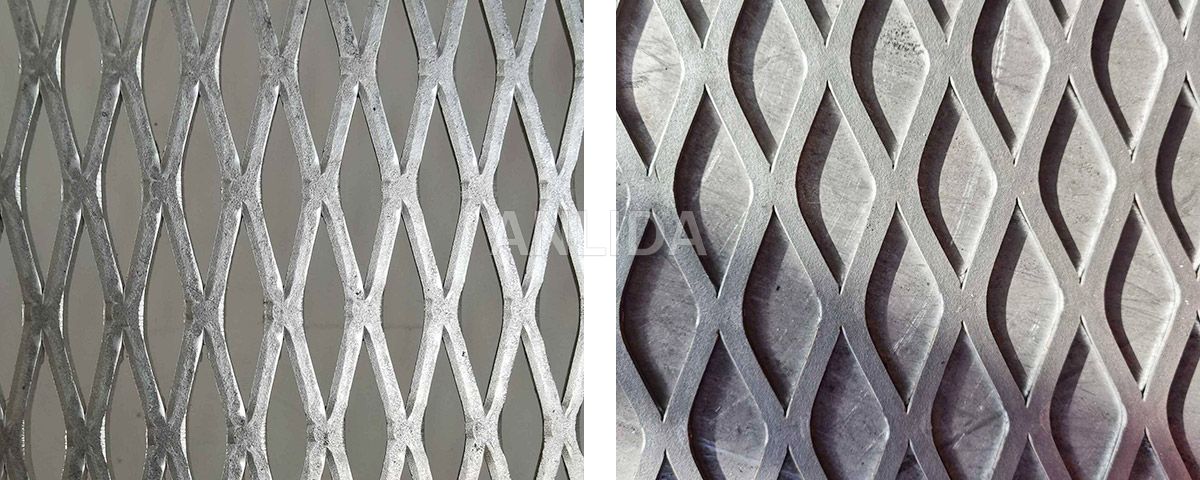 Flattened steel expanded metal specifications
Sheet thickness 1.0-12mm

SWD 10-140mm
LWD 20-500mm
Strand width 1.0-30mm
Style 1/2" -12ga 1/2" -16ga 3/4" -8ga / 12ga / 16ga 1-1/2" - 8ga/ 12ga
Hole shape:diamond hexagonal honeycomb irregular pattern
Surface treatment: Akzo Nobel fluorocarbon spraying, powder coated, anodized oxidation, galvanized, etc.
Flattened expanded metal mesh raw materials: can be divided into general cold-rolled steel plates, stainless steel plates, stainless steel plates, copper coins, aluminum alloy plates, nickel plates, etc.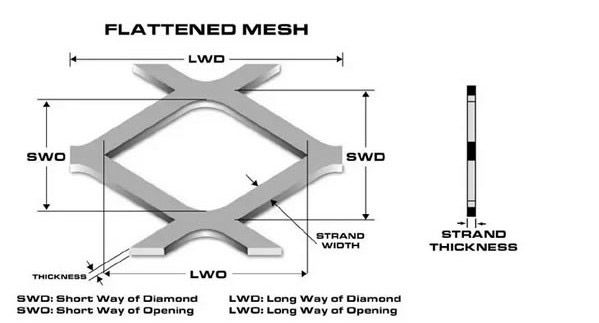 Specifications

Tickness(mm)

SWD(mm)

LWD(mm)

Wire stems width(mm)

Width(m)

Length(m)

Weight(kg/m2)

0.5

2.5

4.5

0.5

0.5

1

1.8

0.5

10

25

0.5

0.6

2

0.73

0.6

10

25

1

0.6

2

1

0.8

10

25

1

0.6

2

1.25

1

10

25

1.1

0.6

2

1.77

1

15

40

1.5

2

4

1.85

1.2

10

25

1.1

2

4

2.21

1.2

15

40

1.5

2

4

2.3

1.5

15

40

1.5

1.8

4

2.77

1.5

23

60

2.6

2

3.6

2.77

2

18

50

2.1

2

4

3.69

2

22

60

2.6

2

4

3.69

3

40

80

3.8

2

4

5.00

4

50

100

4

2

2

11.15

4

60

120

4

2

7.5

4.0

4

80

180

4

2

10

3.0

4

100

200

4

2

12

2.5

4.5

50

100

5

2

2.7

11.15

5

50

100

5

1.4

2.6

12.39

5

75

150

5

2

10

3.0

6

50

100

6

2

2.5

17.35

8

50

100

8

2

2.1

28.26