Jul. 31, 2021
Serrated Grating Preventing Unexpected Slip Or Falls
The grating system has become the main candidate material for flooring, trench cover, and stair treads for commercial, residential, or industrial applications. Since the shoe is in direct contact with the grating, the surface conditions of the grating should be considered before planning.
Where should a serrated grating be used?
The walking surface is often covered by accumulated moisture or other slippery substances such as oil.
Places with high passenger flow should be covered with serrated gratings to prevent accidental slips or falls.
Production Method:
Welding grating;
Riveted grating.
Features of serrated steel grating
Anti-skid. The convex surface has excellent anti-skid performance and can be used in wet and slippery places.
Corrosion resistance. Galvanized surface treatment, good corrosion resistance, and long service life.
Acid and alkali resistance. Stainless steel serrated steel grating has excellent chemical stability and can be used in chemically corrosive environments such as salt.
Protect safety. The serrated surface prevents pedestrians from slipping and ensures the safety of pedestrians.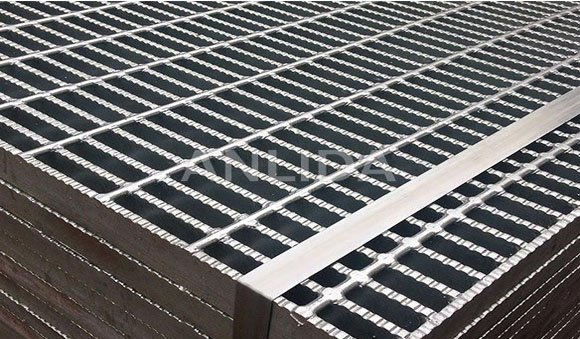 Serrated Grating
Applications of serrated steel grating
Serrated steel grating features outstanding slip resistance, it is widely used in environments filled with water, oil, and other elements that may cause slipping.
It is widely used as stair tread grating to secure pedestrians safely go up and down.
The serrated steel grating is widely used as platform walkway grating in pedestrian streets, balconies, and factories for anti-slip applications.
The serrated steel grating can be installed on the drainage and trench as drainage trench cover to drain water and keep the ground dry.
We are serrated grating supplies. Please feel free to contact us if you are interested in our products.