Jun. 30, 2021
What Is a Bar Grating?
The bar grating is an assembly of metal bars running in one direction, secured by crossbars in an open grid pattern. The bar grating provides support for walkable surfaces and rolling loads. You may have seen this grating used as a sunshade, used on pedestrian bridges, or even on the sidewalks of large cities. In fact, bar grating is often used as grates for sidewalk openings in cities. However, the industrial world is where you will find most bar grating products. It is the preferred floor for the oil, gas, and mining industries, water treatment plants, and data centers; mezzanine and shelf systems are usually constructed with bar grating.
The advantage of the metal grating is that it requires almost no maintenance and allows airflow and light to pass through the structure. This kind of open floor allows heat, water, and sound to be transmitted in accordance with your specified requirements, while also being able to withstand the weight that other floors cannot bear. The bar grating is applied in new industries and methods every day.
At its simplest, the bar grating is an assembly of metal bars composed of horizontal bearing bars and vertical crossbars. The use of gratings began in the interconnected subway in the early 20th century. Common metals include carbon steel, stainless steel, and aluminum. Each material has different advantages and can be used in various environments. Although it looks very technical at first, it can be easily understood when it is deconstructed piece by piece.
Advantages of steel bar grating
Save material: the most saving material way under the same load condition, correspondingly, it can reduce the material of the supporting structure.
Reduce investment: save materials, save labor, save construction period, and avoid cleaning and maintenance.
Simple construction: fix the pre-installed support with bolt clamps or welding, which can be completed by one person.
Time-saving: the product does not need to be reprocessed on site, and the installation is very fast.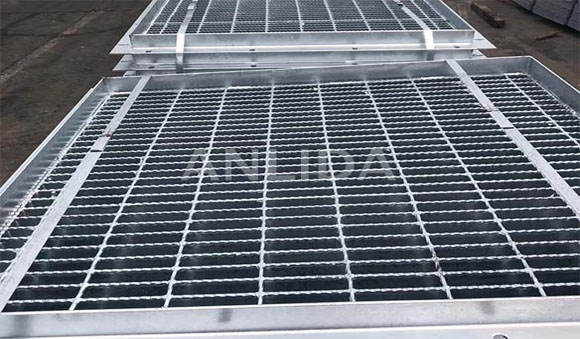 Bar Grating
Durable: Hot-dip galvanized anti-corrosion treatment before leaving the factory, with strong impact and heavy pressure resistance.
Modern style: beautiful appearance, standard design, ventilated and light, giving people an overall smooth modern feeling.
Light structure: fewer materials, light structure, and easy to hoist.
Prevent accumulation of dirt: no accumulation of rain, ice, snow, and dust.
Reduce wind resistance: due to good ventilation, wind resistance is small in case of strong wind, reducing wind damage.
We are bar grating suppliers. Please feel free to contact us if you are interested in our products.