Jun. 06, 2022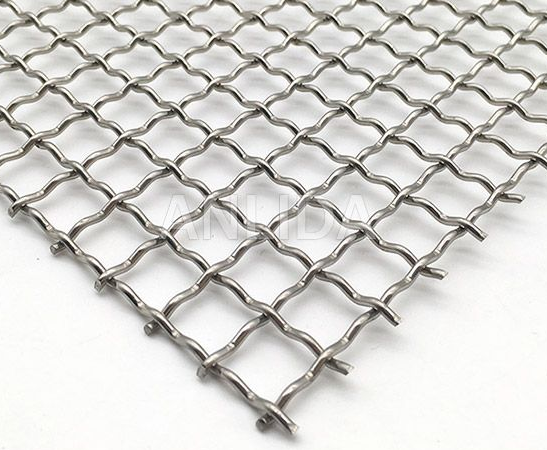 A Crimped Wire Mesh or Crimped Woven Wire Mesh is a woven Mesh and not welded. Crimped Wire Meshes have square or rectangular openings/spacing and the wire thickness/diameter depends upon the dimension of the mesh spacing or toughness required by the customer. They are usually manufactured with:
Stainless Steel

Galvanized Steel

Mild Steel

Spring Steel
The main advantages of stainless steel crimped wire mesh:
High filtration accuracy;

High compressive strength,

High temperature, hold to chemical corrosion, Abrasion to hold;

Good formability.

Beautiful decorative effect.
Industrial Applications
Common applications or use of Crimped Meshes are in the following industries:
Stone Crushing

Manganese Ore Mining

Coal Washeries

Sugar and Chemical

Fertilizer

Security (Panels, Guards in doors and windows, Grills in railways, etc.)
Stainless steel crimped wire mesh is made of high quality stainless steel wire, wire will be crimped before woven,so crimped wire mesh own stable structure, good strength and uniform mesh. It's one of the main products of stainless steel wire mesh. And It is the best kind of decorative screen in stainless steel wire mesh. According to weave type stainless steel crimped wire mesh can be divided into the plain crimped wire mesh, intermediate crimped wire mesh, lock crimped wire mesh, flat top crimped wire mesh etc. Stainless steel crimped wire mesh can be used for withstand shocks, squeezing, material wear and other harsh working conditions. It can also be used as a highway fence, rail fence, residential fence, courtyard fence etc., mainly used in building decorate mesh. And It can also be used for acid, alkali conditions screening and filtering.
We, Anlida, are very well known as manufacturers of Crimped Woven Wire Meshes which are of two variants:
Single Crimped Wire Mesh

Double Crimped Wire Mesh
These two variants are commonly manufactured by us with either Stainless Steel wires or Galvanised Iron wires. Apart from that we also manufacture Meshes with high grade metals wires of high tensile spring Steel, Stainless Steel, special Alloys, precious Alloy wires such as Inconel, Titanium, etc. We procure the raw materials from most reliable sources and we ensure that our products have the capacity to withstand high vibrations and corrosive actions which are a requirement in some Industries. Contact us now!